Hello, all.
Recently, I picked up a copy of Black Hole Rising again. Without a doubt, the second installment is my particular favorite of the series, of not my favorite handheld game overall. This is in no small part due to the Campaign Mode. Flaws and all, I really love the Campaign Mode of BHR. It's straightforward, easy to follow, you can play it all in one sitting, and it's easy to tell most missions, maps, and concepts have been done in some pretty immaculate detail. I have my complaints, and there's one glaring flaw that I don't like in particular, but every playthrough of BHR is fun, and that's not something you can say about many games' "Career Modes".
For old times' sake, I decided to use my amateur opinion to talk about something I have kind of an authority over: the Black Hole Rising Campaign itself. I'm going to dissect it by each unique map, and rank them 41 to 1. Seven Hard Campaign versions that are drastically different from original maps (read: more than a few extra units or spaces of land) will be included here. This list will be based off of nothing more than my own criteria and preferences, so feel free to agree or disagree. This is mostly for the fun of it.
With that, let's begin.
41: Cleanup
(No, Flak, it is not.)
Country:
Orange Star
Mission
#1
CO:
Andy
Foe:
Flak
Goal:
Rout or HQ Capture
To be expected, it's a tutorial mission where you only have infantry. A lot of tutorial missions will be knocked out super quick.
What drives me nuts about AW2 is that the tutorial missions are forced, depriving us of a decent Orange Star campaign except for the Hard Campaign mode. In the original Advance Wars we had the option of taking Nell vs Olaf tutorials separate from the game, and the Campaign threw us right into the action with a mission of decent difficulty. In Advance Wars 2, you have an entire country worth of missions, most of them boring, where you have to learn things every single time you probably already knew.
Understandably, for old veterans, this gets really fucking grating to have Nell explain to us what Infantry do for the ninth time for five minutes, especially in this one where you only get infantry and Andy. I mean, does it get more boring than that?
Boo to the forced tutorial and boo to this level.
40. Hot Pursuit (NC)
Come on now, mate, you're just making this more complicated.
Country:
Black Hole
Mission
#33
CO:
Grit if you're not completely cracked, three others from Allied Nations otherwise
Foe:
Sturm
Goal:
Destroy 3 Giant Cannons.
When they say "failure by design" they were talking about missions like these. Advance Wars as a whole has a handful of missions, maps, etc. that I think were just doomed to be broken, boring, or brokenly boring. This mission is one of those missions, because the AI is an idiot.
Leaving their brains back home, the AI never never leaves their pipe safety zone, and you don't even have to bust it open unless you're really bored. All you have to do is pick Grit and send up rockets supported by dummy Md. Tanks and blast them from a distance. It's ridiculously easy, and ridiculously flawed for the penultimate mission of the game. Even if all they did was make the AI smart enough to break pipe seams, the mission becomes harder than a couple of mildly pesky sea units.
I don't know if this map would be slightly better or even worse if this was what they intended, but since you'd just have to chance upon using Grit if you did, I highly doubt it. If they had been smart like they had with Great Sea Battle, they'd have made it impossible to use a Blue Moon CO. Here, you can cheap it out with Grit, even using 1HP cannon-blasted rockets if you wanted tom and there's nothing Sturm can do about it...
...well, other than break the goddamn pipe seam.
39. Flak Attack and 38. Orange Dawn (NC)
(A.K.A. the really boring Max Tutorials)
No.
Eh.
Country:
Orange Star
Mission
#3 and 4
CO:
Max
Foe:
Flak
Goal:
Rout or HQ Capture
Another relatively boring tutorial mission. At the very least, you get the lab mission. It is pretty sad to see Flak get a ton of air units and you only a few anti-airs and a missile. Talk about envious. Orange Dawn is the same as above. At the very least, we get a ton of bangin' tanks with Max to smash shit up. That isn't much to complain about, but still, tutorial missions blow chunks, and most players could complete this in their sleep.
37. A Mirror Darkly
Lash's idea of a wonderfully fun game.
Country:
Yellow Comet
Mission
#22
CO:
Sonja
Foe:
Lash
Goal:
Rout. Don't let Lash reach your HQ.
Here's another "normal" mission I don't like. It alternates wildly between no challenge and blatantly unfair. I am not a huge fan of "fish-in-a-barrell" challenges where you can shoot what you want wildly uncontested, like what Hot Pursuit turned into, so you will probably see a lot of these in the bottom.
Here, you're stuck with Fog of War, a mountain range, and three tanks that can mobilize in the center. For the most part, you just shoot, forget, and guard the HQ. The worst part is that even after all of the same-ol-same-ol shooting, you and your three damaged tanks get to waste a few days trying to find the one goddamn APC hiding at the bottom of the map. If you like blowing stuff up for the hell of it, this mission is for you. If not, fuck it.
We do get a decent storyline out of it. Sonja gets so wrapped up in herself that she's willing to risk her men and her victory on a bet with a bratty little sociopath, and at the end of the mission Lash is more than eager to point out the similarities. Coupled with Duty and Honor, it's an interesting little growth arc for Sonja. Still, I'll take the story and pass on the level, thank you.
36. Andy's Test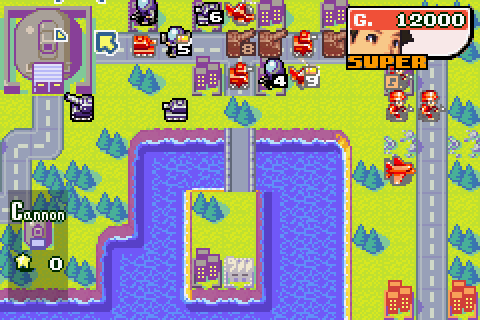 A cannon that size is a first for me too.
Country:
Orange Star
Mission
#6 NC, #3 HC
CO:
Take a wild guess.
Foe:
Flak
Goal:
Destroy a giant cannon.
Even in the Hard Campaign, this mission isn't much different or more challenging, but as far as campaign missions go it's on the less shitty end of the spectrum. You can actually destroy Flak's production and skippity-do-dah your way to the black cannon if you play your cards right in Normal Campaign, plus it's your first time to deploy units.
Plus, you get an introduction to the one big change from AW1 to AW2: Lash creates some massively fucked up toys. So as tutorial missions go, it's more vital: I remember ten year old me just going what-the-holy-shitballs at the giant cannon. It's still not a necessarily fun mission though.