Basic Outline:
Missions 0-5: Introduction. A new enemy says hello to the Green Earth Amry, Parallel Galaxy. But a error on some calculations give an edge to our heroes, that managed to successful drive away the invasors, unlike the other nations. (There is a secret mission, 3x, here against Talyx)
Missions 6-9: GE decides to attack BH before they attack them and, on the meanwhile, the other new COs are introduced.
Mission 10-14: GE's army is divided in other to help the other nations...but BH takes advantage of that, strike their mainland with some new clones and take a good piece of its territory.
Missions 15-19: GE counterattacks.
Missions 19x-19xxx: Secret missions involving Levenworth and the clones
Missions 20-27: GE declares war against the other AN nations. Clone Peter does that with the excuse that "AN will need to be unified under the flag of the Green Army if they want to defeat the DA", since only GE "managed" to defeat them, and using hypnosis, fake excuses, and a sample of a serum Levenworth gave him...he drags all GE COs into this. The crystal incident is inside this piece.
Missions 28-33: GE kills Clone Peter. The DA uses all the power collected during the clone's reign to destroy GE. GE, now being helped by AN, manages to resist and strike back. GE manages to, once again, reach BH's territory, but now with power enough to win the final battle. They manage to rescue Peter from there. Hawke&friends escape to PG.
Missions 34-36: Last battles on PG territory.
Mission Extra: Rivals! Mission only available if you beat the Levenworth Missions. It will be Eagle vs Talyx if you beat 4x and defeat PG last on the final battle; and Hawke + Falcone if you beat 24x and defeat BH last on the final battle.
The COs:
Eagle: Main character, as usual.
Drake: Will usually be together with Eagle. Will be responsible for sending help to JC
Javier: Patrols and defends Omega Land
Jess: Gives support to any CO that needs it. Stays mostly with Javier on Omega Land or with Joey.
Peter: The CiC.
Conrad: Responsible for Intel.
Joey: Responsible for sending reinforcements to other countries and trading unit plans, as well as for diplomatic affairs with the other countries.
Smitan: Responsible for HQ defense.
Campaign Outline:
Phase 0: Tutorial
Mission 0: Prologue
After the success of the campaign Von Bolt, the GE COs go back to their country to get some rest, peace, and all that crap. Everything goes smoothly well and Green Earth gets pretty peaceful...except for the constant fights between Eagle and Jess, but thats not important. On one particular day, probably guessing that something bad would happen pretty soon, Drake got into the battle simulator with Eagle, so he can sharpen his skills again. Think of it as a condensed Sea/Air/Some other stuff field training that only be part of normal Campaign.
GE CO: Drake (Green Earth)

VS

Enemy CO: Eagle (Black Hole)

AI set to Strike

Mission: Win by HQ capture or Rout
Note: This is supposed to be a field training in one mission, so, like on the other campaigns, its a mission where you will hardly lose. On hard campaign this mission won't be there.
Note 2: Map making isn't my forte, so if you find any problems with that map, please tell me <_<
Phase 2: The start of a new war
Mission 1: Rising of a new evil
On something supposed to be just a normal patrol, Javier's troops found some unidentified units apparently preparing an attack against some cities...apparently something wasn't right.
GE CO: Javier (Green Earth)

vs

Opponent CO: Xavier (Parallel Galaxy) [Hidden]
AI set: Defensive
Mission: Win by rout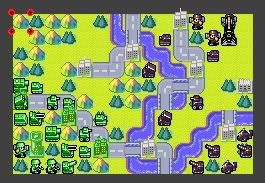 Basically PG planned a surprise attack against GE and, for that, they secretly formed small strongholds ordered to attack GE's cities at the same time the moment the attack signal, coming from the HQ, is given. Javier accidentally found one of those strongholds and attacked it, while warned the HQ that a new enemy has appeared. The enemy CO, on the other hand, couldn't be seen anywhere. Javier's units will be predeployed and direct-heavy, while Epoch's will be indirect heavy with a base or two. It will be a "destroy the opponent before it becomes stronger than you" mission. After the battle, PG CO reveals himself as Xavier, whose illusional powers of doom are the responsible for all those strongholds coming from nowhere.
Mission 2: Bombs Away!
Jess's troops follow some radars signals of another possible stronghold and when they arrive there...there are only some abandoned bases. They've falled into a trap caused by Xavier's special abilities. Surrounded with little to no chance of winning, Jess's only hope is to send S.O.S. signals to the HQ and stay alive.
GE CO: Jess

vs

Enemy CO: Cassidy

AI set: Strike

Initial mission: survive for ? days. On day 8, Peter's SCOP will be activated, and a reasonable group of predeployed units, as YC, appear commanded by Peter, that will be

hidden

and [/b] controled by the AI [/b]. After that, the mission turns to be rout/HQ capture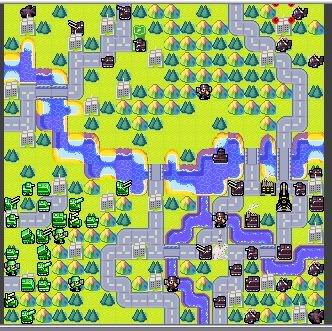 Dialogue:
Jess: Eagle, why are you even sending me on this mission? It's pointless.
Eagle: Come now, Jess. Aren't you the one who insists we come prepared for anything?
Jess: But surely you need me over on the west coast? That's where Sonja said that strange army was heading.
Eagle: Do not fret, Jess. Drake and I can handle anything they throw at us.
Jess: That's just being foolish. We don't know anything about this army. You can't be sure-
Eagle: Look, I know you're annoyed. I can understand that. But we need you to protect Green Earth's east coast from invaders.
Jess: Humph. Like that's going to happen...
Drake: Exactly! Calm yourself, down, lass. You get a nice, relaxing week off on a beach! Why are ye complaining?
Jess: ...
Drake: Come on, now, Eagle. It seems like there's a stormy battle-a-brewing. We'd better go out and meet it.
Eagle: Have a nice time, Jess!
[mission start]
[GE, day 1]
Jess: 'Have a nice time, Jess'. Who does he think he is? Why, if I ever got the chance to, I'd-
GE Soldier: Sorry to interrupt you, ma'am. We've heard a report-
Jess: What? What does it say?
GE Soldier: That mysterious army- they're closing in.
Jess: What? They caught me off guard... Ugh. Send for reinforcements! We'll have to just try and stick it out until then...
GE Soldier: Will do, ma'am.
Jess: OK, troops- to arms! We're NOT letting these invaders walk all over us!
[PG, day 1]
Cassidy: My, my... this was inconceivably easy. Jess appears to have lost her touch.
Jess: C-C-Cassidy? You're the invader?
Cassidy: Excellent deduction, Jess. Just like old times...
Jess: Cassidy... how could you betray Green Earth?
Cassidy: It was a necessity, I'm afraid. Orders from above, and all that.
Jess: Oh? So you're not alone?
Cassidy: I... I've said too much.
PG soldier: Commander! We're ready to move out when you are!
Cassidy: Excellent. Let's go.
[GE, day 2]
Jess: Wait... this is hopeless. We're completely outnumbered. We don't have anywhere near enough troops to take out Cassidy's air force.
GE Soldier:...Ma'am?
Jess:...Yes, soldier?
GE Soldier: We have to hold out. Commander Drake and Commander Eagle are relying on us.
Jess: Yes, yes, I know... I just hope the reinforcements arrive sooner, rather than later.
[PG, day 2]
Cassidy: It appears that Jess has left her HQ completely exposed. That's... not like her.
PG Soldier: Mistress Cassidy? You know this... Jess?
Cassidy: Yes. We worked together, long ago. I know Jess, inside and out, and this... it's too simple.
PG Soldier:...Mistress Cassidy?
Cassidy: Forget it. I'm just over preparing now. She's a good commander, but she's outclassed and outgunned.
[power quotes]
Jess- Power- Cassidy seems to have the advantage here... but she ought to know that I'll never back down!
Cassidy- Power- This is getting out of hand. I'd better finish it quickly...
[GE, day 8]
Peter (hidden): My, my... so this is the next generation!
Jess: W-W-Who said that? Show yourself!
Peter (hidden): You'll see soon enough, young Jess. You've been doing pretty well out here, I think. But I'm pretty sure I can still lend you a bit of a helping hand. What do you say?
Jess: Help? Yes! Yes, of course I want help!
Peter (hidden): Well, that settles it, then! Let's drive these invaders from our homeland!
[PG, day 8]
PG Soldier: Commander! We've run into some trouble!
Cassidy: Darn... I was careless. What seems to be the matter?
PG Soldier: It looks like Jess got some reinforcements!
Cassidy: Oh, so that's the way she wants to play, is it? Hmm...
PG Soldier: What are your orders, ma'am?
Cassidy: Keep attacking Jess. If we can capture their HQ, the battle is still ours.
PG Soldier: Yes, ma'am!
Peter- Power- These young upstarts... time to teach them a lesson or two!
[Victory]
Cassidy: How did I manage to muck this up? I'd prepared for everything...
Peter: Not quite everything. You weren't ready for me!
Cassidy: Is that... you? This is... not good. I'd better inform my superiors about this... Hey, Jess. Until next time...
Jess: You... are one skilled commander. Thanks for coming to my rescue.
Peter: It was nothing.
Jess: Just one thing... who are you?
Peter: ... You really don't know?
Jess: You do seem familiar. I just can't put my finger on it...
Javier: Dame Jess!
Jess: Javier?
Javier: I came to the rescue... at least, I thought I did. Where is our most treacherous foe?
Peter: You're a bit late for that, sonny.
Javier: Why... is that... Sir Peter?
Peter: Ha! I guess it is.
Jess: Wait... I remember! Peter... You were Green Earth's general, weren't you?
Peter: You got it exactly right. I heard about these sightings, and decided to try and see what I could do to help.
Jess: If you're half as good as I remember, Cassidy ought to be shaking.
Javier: We have no time to chit chat idly! The forces of darkness grow larger every second! We must charge to the next battlefield!
Peter:…
Jess: Peter? Aren't you coming with us?
Peter: What? Oh, right. I was just thinking… your friend there is an interesting fellow.
Jess: 'Interesting' isn't the word I'd use. More like-
Javier: Dame Jess! Sir Javier! This is not a battle charge! We need to ride together!
Peter: Come on, Jess. Let's go.
Mission 3: A True Leader
All GE COs are summoned to the GE HQ to discuss the new enemy that has arisen. But there they were attacked by Xavier's troops. Peter steps in to defend the HQ and the local citizens, in a true show of strenght.
GE CO: Peter (Green Earth)

VS

PG CO: Xavier (Parallel Galaxy)

AI set: Assault


Mission: Win by rout
Secret Mission: Don't let any allied city be captured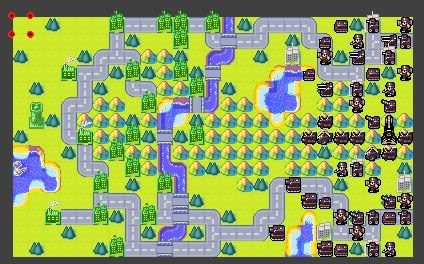 Note: The secret mission won't be explicit, but the dialogue will have a lot of hints (like: "the cities are in dangers" or "trust me, they won't even touch the cities, I will make sure of that").
After that, all COs have their meeting, and Peter is declared CiC of the Green Earth army, atleast during that war.
Mission 3x: Acrophilia and Acrophobia
Note: MOW
Impressed by the power of the Green Earth army and mainly of its leader, Peter, Talyx takes it personally. After the PG army was humiliated by Peter, since he destroyed them after they even captured a single city, Talyx decides to do a big act to recover PG's respect and his own respect as "leader" of the army.
So he did a sudden strike at the GE HQ, helped by a thick mist, using everything PG had to offer...maybe too much, and, taking advantage of the "I am powerful" feeling GE had after humiliating PG, he managed to infiltrate on the HQ and kidnap the leader, Peter and take it to the nearest HQ. GE HQ was paralysed, but, after knowning that his master was captured, Eagle got mad, and summoned all the troops the GE HQ has available to pursue Talyx's troops and save Peter. How cliche XD.
GE CO: Eagle

VS

PG CO: Talyx

AI set to Defensive


Mission: Bring the flagged PG APC to less than 4hp before it reaches the HQ and capture it in 15 days (not necessarily 15 days, will depend on the map)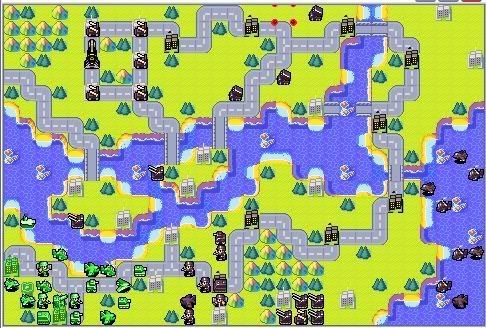 Well, I had to show why Eagle hates Talyx so much. This is secret mission so when Eagle goes "TALYX! I won't forgive you for what you have done" on the battles the two of them meet each other, the player will go "Huh? did I miss anything?" and look twice at the missions. Second, it is a hidden mission because this is enable something....interesting on one of the last missions. And it will cover a little plot hole...that will also happen next to the end.
After the mission is complete, Eagle will be mad at Talyx for that low blow, Talyx will be mad at Eagle for defeating him and taking a good portion of his pride with it, and Peter will be drugged and won't remember a thing (so Chess won't need to add a Talyx negatag for storyline reasons
).
Oh, and after the mission, Talyx will have a conversation with Mr unknown (dunno who, probably Levenworth or Dready, but he will be 100% hidden, so thats not important), along the lines of:
Mr unknown: "How was the mission, Talyx?"
Talyx: "They managed to rescue Peter, sir."
Talyx again: "But we got the sample."
Mr Unknown: "Great. You have served me well"
Mr Unknown again: "Contact the doctor, he will know what to do with it"
Talyx "Yes, sir"
Only better XD.
Winning this match is a requirement for the secret mission after the final one
Mission 4: Dazed and Confused
(lol led zeppelin reference <_<)
The GE unit lab finally finished the plans for the new unit, the Zeppelin. Peter orders a new CO to bring the prototypes and the plans to the HQ. But the PG advance was bigger than they thought, and the new CO was trapped near one of the strongholds near the HQ. The other COs rally some units to rescue the new CO..
GE CO: Conrad (Orange Star)

+

Choose a GE CO (Jess, Javier, Eagle, Drake, Peter) (Green Earth)

VS

PG CO: Cassidy

AI set: Strike

Win by HQ capture or rout. Conrad can't be routed and no Zeppelins can be destroyed
Mission 5: Countdown to Disaster
Conrad manages to reach the HQ and bring the Zeppelins to the HQ, where they were analysed and a mass production were started (read: you can build them from airports now). But thats not the only thing he had. After some patrols, analysis of where the strongholds were found and the paterns, Conrad managed to find where the main set of strongholds is located. The final battle is near...
Choose a GE Tag (Jess, Javier, Eagle, Drake, Peter, Conrad) (Green Earth)

Vs

PG CO: Xavier/Cassidy (Parallel Galaxy)

AI set: Defensive

Mission: Capture all Labs or win by rout in 15 days.
(Note: The CI MDtanks are supposed to be PG gates and the Pipestations the labs. There are bases under the tanks, the HQ under the Bomber, Airports under the zeps and copters and cities on the other tiles.)
- End part 1 of phase 1, PG's invasion is over, GE redirects their troops to attack BH's mainland.
Mission 6: 30 minutes or less
Note: ZOMG FOW!
While GE prepares an invasion against BH, another new CO was responsible for giving some help and the zeppelin plans to Green Earth's biggest ally, the country of Jade Cosmos, in order to help them with their battles. In exchange JC would give GE the plans for a revolutionary new kind of unit, the hovercrafts. For that, he had to pass through some pesky obstacules...

GE CO: Joey

VS

BH CO: Ember
Capture the northest neutral airport
After that there will be some dialogue between Joey and Amy and he will give her the zeppelin plans, while receiving the hovercraft plans.
Mission 7: Entering the Black Hole
Conrad and Peter stayed at the HQ taking care of defense and Joey was busy with the unit plans, so Eagle, Jess, Javier and Drake would invade BH. The operation would be divided in two phases...on first one, Eagle and Drake would break through the first defense line with the navy and air units, and unload the ground units...
Note: This is a dual screen battle. Nifty, don't you think?
GE Tag: Eagle (Top front, air units) + Drake (Bottom front, sea units)

VS

BH Tag: Adder + Koal

AI Set: Assault


Win by rout and destroy all minicannons. 2/3 of the landers should survive
The upper front will be Eagle vs Adder. Lots of fighters and Stealths, mainly, with some bombers to be send to the bottom front and some copters and zeppelins. Adder will outnumber Eagle's troops slighty. Typical air front battle.
The bottom front will be Drake vs Koal. Drake will have a full navy (cruisers, subs, carriers and Bships), with 6 landers and a couple bboats. Koal will have a reasonable sized Navy with some air units, islands with BH cities and indirects on it and minicannons (about 5, not clumped together).
Mission 8: The End?
Phase 1 of the invasion plan was completed, now phase 2 has started. The troops unloaded by the surviving Landers manage to capture a small base and they, commanded by Jess and Javier, are going to pierce through BH's base. But something is wrong, this is being way too easy...
GE Tag: Jess + Javier

VS

BH Tag: Kindle + Ember

AI Set: Defensive for the first part, turning into Strike after the map expands.


Initial Mission: Rout. When BH stays with only 1 unit, the map expands, revealing a lot of BH predeployed units north, east and west. South will have a warp point. On this moment, the mission is to get at least 5 units at that warp point.
GE will have a lot of predeployed ground units and a HQ + 2 bases, next to a few neutral properties, including a neutral airport. BH will be on an indirect heavy stronghold, but with not that many properties. After the map expands, lots of powerful fast units, mainly Planes, Mdtanks, tanks and neotanks will appear for BH north of the map, east and west. The terrain should be wide, so those units can move faster. South will have only sea, except from a bridge leading a small island where the warp point will be located. South there will also be a couple of fighters/bombers and battleships, so you don't just keep 5 recons south, defeat BH and move them to the warp point. BH has no HQ.
- End phase 1. AN conference.
Phase 2: The Dark Axis
Mission 9: Cleaning the House
While the other COs are on the conference, the eight CO is doing some cleaning job removing all trace of the PG army. But, on a particular stronghold, the eight CO is being pushed back. Apparently, PG managed to capture one of the biggest mines on GE and using the resources to rebuild their army on GE. GE needs to bring the few samples of the hovercrafts that were produced on that short time. PG's units are being controlled by a robotic software based on the CO Epoch, since the COs that were actually on GE territory were forced to leave.
GE CO: Smitan

VS

PG CO: Epoch

AI: General


Mission: Capture the mines and the HQ.
The lack of a definitive CO makes choosing a CO a very hard job <_<;;. I know the map will have 2 battlecrafts and an artillerycraft for GE, while PG will have 2 mines captured. The map itself will be hover-friendily, but thats all I know. After the CO is decided, I will try to give more details to fit said CO. Until then...<_<;.
Mission 10: Dark Blockade
So the plans are starting with Team 1, composed of Eagle and Drake, going help JC. On the way, Drake's navy have an unpleasant surprise when they found out why JC is having trouble with communication...PG has formed a naval blockade! OMG! Anyway, PG's navy strike before GE's air units are ready, leaving Drake and his navy with the task of passing through the blockade without losing any air units, vital to the mission.

GE CO: Drake

vs

PG CO: Thanatos (may change depending on the claiming)

AI: Assault

Beat the crap out of Thanatos. No Cruiser or Carrier can be destroyed
I still am not sure if we are gonna have the Destroyer <_<, but if we do, it will be introduced on this mission. The map is simple, with a few sparse islands with ports and neutral cities, but small islands. Drake will have a navy with all kinds of units, including 3 cruisers and 2 carriers, while Thanatos will have some naval and some air units.
Mission 11: Lightning Demolition
After Drake managed to pass through Thanatos's units, he and Eagle realized that the only way to help JC is to break the blockade, and fast...before it is too late to JC, so Eagle ordered all air units to leave the cruisers and Carriers and advanced as fast as he could to the JC island. On the way he found a gold mine, as something like that. After Thanatos defeat, PG decided to put the blockade closer to JC, in one strong line, but Eagle managed to reach them before that happened....his mission is now to do as much damage as possible before they manage to evacuate.

GE CO: Eagle

vs

PG CO: No idea yet
Destroy all Battleships and minicannons in X days
The mission will be somewhat similar to AW2's sea fortress, but without the fortress. GE will have the basically the unit setup of HC Sea Fortress, as in, lots of fighters and bombers, some copters and a few naval units. BH will have some minicannons ( probably 5 or 6) spread on the battlefield, lots of anti-aircraft units (carriers, cruisers and fighters) and about 4 or 5 battleships.
Mission 12: Arsenal of Intel
While Team 1 is trying to help JC, Team 2 was responsible to help to other countries with some reinforcements and the plans for the destroyer and the zeppelin. On their first stop, BM, where they were supposed to give GE's plans and receive BM's new unit. The plan was stopped when AC appeared to steal the plans.
GE Tag: Joey + Jess

+

BM Tag: Choose (2)

vs

AC (Mercenary) Tag: Eric + Mary
AI: Assault
Note: FOW
Defeat AC and send one sample of the destroyer to BM's Port and of the air units to the other armies' HQ (Spyplane to GE HQ and Zep to BM HQ). They will disappear when you do that
The mission will be ground based with FOW. The map itself will be ground heavy with some not big water bodies for sea units. GE will have a couple destroyers and Zeppelins, but the actual battle is ground-heavy...GE won't have any port and maybe just one airport. BM will have some spyplanes, ports, bases and airports. The opponent will be AC, that will try to steal the plans and will have some indirects hidden on forests and reefs, a small navy on the water body some air units and some ground units and the usual deployment properties.
Mission 13: Plague
With GE's army being divided in 4, BH sees the perfect opportunity to attack the GE main territory. To do that, they bring a weapon that was proved to be more destructive than any laser....
GE Tag: Javier

vs

BH Tag: Falcone + Clone Peter
Destroy all Neotanks.
Basically Clone pretends to be Peter and lure the COs to a trap. The map will be the usual "surrounded" map, with GE having a small base on the center and BH overwhelming them with some bases surrounding them and a reasonable predeployed army, with about 4-5 Neotanks included.
After all neotanks are destroyed, BH's raid loses its strenght for a moment...time enough for Javier and 8th CO to retreat and regroup.
GE will have some artilleries, tanks, some mechs and infantries, nothing bigger than that. Also, we will introduce the War Factory here, so no bases, just war factories, which means that GE won't be able to spam infantries. Also the war factories won't be able to produce anything bigger than a tank. BH's army will be completely predeployed.
Mission 14: Steamroll
Even after Team 4's strategic retreat, BH's Steamroll seems more powerful than ever...massacrating and dominating city after city with little to no resistance, thanks to the Peter Clones...will our heros survive this onslaught? check that on our next episode of "oh boy, we are so incredibly screwed!". Anyway, BH managed to reach Team 4, and even with the reinforcements brought by Conrad...things aren't looking good for our heros.
GE CO: Smitan

GE Reinforcements (as JC): Conrad

vs

BH: Falcone + Graves
Both armies should survive for X Days
GE is overwhelmed like crazy by BH, that will have a couple power stations to enhance the destructive tag of that Mass Damage Tag. They will also have a fairly big predeployed army and some bases to already start with lots of power.
After the X days, The COs manage to escape from the battlefield to the HQ...but the soldiers didn't have the same luck...
Intermission:
With BH's current power, GE could be easily conquered....but, for some reason, both Graves and Falcone left GE...for unknown reasons, leaving the BH invasion at the hands of the Peter clones, who weren't able to keep up with thei good work...something is fishy here.
All GE COs, except for team 2, are ordered to come bad to the GE HQ and prepare themselves for the counterattack. Peter had a feeling that something would happen...and he is often right.
Phase 3: Counterattack
Mission 15: Green and Jade
And GE's operation to crush PG's blockade reaches its final stage...
GE Tag: Eagle + Drake
+
JC Tag: Carrie + Jared (this is like...not definitive)
vs
PG CO: Thanatos (may change after the claiming)
+
BH Tag: No idea.

AI: Defensive for PG and Assault for BH
Mission 16 will be a tag battle with air and sea units, not a dual front battle. The map will have a sea portion and a ground portion. On the sea portion we have GE's navy and air units facing PG's navy. GE will also have 2 landers filled with infantries. After the PG units there will be a few neutral bases and PG's HQ ready to be captured, which will lead to the ground
portion. JC has a base there and they are facing BH, and losing. The mission here is to defeat PG's navy, capture a base on the ground portion and defeat BH together with JC before they are defeated.
Note: Ember has a terrible tag with Graves. Graves have a good tag with Thanatos.
Mission 16: Mirror Battle
Peter decides to start the counterattack himself. With clone Peter out there...the citizens are still vulnerable...and something must be done..
GE CO: Peter

vs

BH CO: Clone Peter

AI: General
Capture X properties before clone Peter
A capture mission..no FOW, no MoW and not too much properties. Very few mountains, few forests and mostly roads and plains. Only Ground. GE won't have cities, only a couple bases and the HQ.
Mission 18-20 will have GE fighting Bolt Guard, which will have the command of the GE area dominated by BH.
Mission 18 and 18x will introduce the pipe-based stuff. , the pipeshocker and the half-buried-pipe. So it will be pipe-heavy maps...oh joy.
Mission 17: Pipe Maze
Joey and Jess arrive at Green Earth after getting the spyplane plans. They find a pipe-heavy base working at full potential. Are they resotring to the old plan Sturm used?....someone seems to be very desperate...
GE CO: Choose (Joey or Jess)

vs

Bolt Guard CO: Jugger (not definitive)

AI: Defensive
Win in X days
Secret mission: capture a certain city surrounded by pipes (and pipe seams, or course).
Secret mission Levenworth: capture the other city surrounded by pipe

Basically Bolt Guard is using the old Sturm's strategy to get resources and try to fend of the..err..."revolution". GE's rich region seems like a very good start. GE should defeat them before all resources are sent.
This is mission 1 of our "must introduce pipe stuff soon or later" missions <_<. This one will introduce the half-buried pipes and the pipeshocker. Pipes will surround the battlefield, surrounding some silos and other properties, and two cities surrounded by pipes, there will be the blah-blah-blah map for blah-blah-blah shuttlerunner, and a map for a lab. Oh, and no Pipestations for now.
Mission 17x: Black Express
After finding the map, Joey and Jess decide to investigate it. They find a lab where the new pipe unit is being designed. They are welcomed by a rather annoying defense software based on Kindle.
GE CO: Choose (Joey or Jess)

vs

BH Defense Software: Kindle

AI: General
Capture all the pipestations and the lab in X days
A small map. We will introduce the pipestation and the shuttlerunner here, therefore it should have pipestations on strategic points, so the shuttlerunner is midly useful <_< >_>.
Mission 18: The good, the bad and the traitor
An annonymous transmission leads team 4 to what probably is BH's HQ. There they meet a rather familiar face...and they aren't exactly friednly against this face...
GE CO: Choose (Javier or Mr 8th)

vs

BH CO: Ember

vs

PG CO: Graves

AI: Assault and assault

Defeat Ember
GE discovers the real reason of why BH is so desperate. Graves says that BH is destroying the resources instead of using them, blah blah blah, and PG is breaking the alliance, blah blah blah, but that doesn't mean they are goodies, blah blah blah, Ember is mad at Graves.
Mission 19: no name yet
The trail given by the annonymous transmission ends and GE reaches the BH citadel on GE territory, and the reinforcements from JC prove to be vital...and unfortunately, maybe fortunately, for GE...PG decided to stick around for that battle. The final battle against the Bolt Guard is near...a rather fishy one.
GE Tag: Choose (all GE COs I am too lazy to write)

+

JC Tag: Amy + Walter (no idea <_<)

VS

BH: Koal + Kindle

VS

PG: Graves + Falcone

Destroy the factory's seam and defeat BH by rout or HQ capture
Secret mission: Win in X days
A typical final battle. Half Buried pipes are a must, but not a map filled with them, please >_>. Some neutral pipestations...maybe a factory to make the AW2 flashback complete
. Seriously, it will have a AW2 factory commanded by BH and some HBP and normal pipes. The factory will have a pipe on the back with a pipe seam and when the pipe is destroyed, the factory stops working....but the mission is not only to to stop the factory, but to defeat by HQ capture or rout.
Intermission: BH apparently was defeated....but some questions remained: Why Falcone betrayed BH? Why PG attacked BH? and the worse of them...Why the clones are still coming? Something are wrong here, and GE as determinted to find out...but the DA had a special plan reserved for them...and this one was perfect.
If you win the mission above in less than X days, we will have a AW1 Sonja-ish group of secret missions. Beating those missions is the requirement to unlock something big on Battlemaps and for the secret last mission.
Phase 3.5: Rat Labs
Mission 19x: The evil face of Biology
With the informations got from BH's HQ, Eagle, Peter and Conrad follow a path of destruction that, apparently, will lead to the origin of the clones. But the person responsible for that decided to handle them personally...
GE CO: Eagle

vs

PG CO: Levenworth
Win by HQ capture or rout
Nothing special here <_<;.
Mission 19xx: Playing God
They finally managed to reach Levenworth's lab where the clones were being produced. Peter decides to finish that job personally. Blah blah blah <_<;.
GE CO: Peter

VS

PG CO: Levenworth
Capture the lab!
Inventions, inventions, inventions <_<;. Black cannons, rotating mini cannons and Null Generators, basically <_<;. The presence of BH's invention made GE start to consider a possible return of the BH-PG alliance.
Mission 19xxx: Flaweless Strategy
The GE COs decided to regroup his units on the destroyed lab for the night and search for Levenworth, that was nowhere to be found. Later at night, Eagle and Peter were asleep and Conrad was analysing some documents found at the lab....but, apparently, some clones were still alive, and they wouldn't go down with out a fight...
This mission will be on the interior tileset

GE CO: Conrad

VS

PG CO: Clone Peter
Rout
Small armies. Damn small armies <_<;. Small map, not many properties.
While most of the remaining PG troops were distracting Conrad, a few other troops managed to infiltrate on GE's HQ, together with the most perfect of all clones. They kidnap Peter and replace him with said clone.
Note: Beating the three missions above is the main requirement to unlock something big on Battlemaps and the final secret mission
Anyway, After those three missions, the last clone peter replaces the real Peter and continues Levenworth's plans on getting more and more black crystals...and they would use AN for that.
Intermission: Peter starts to act odd. The fact that GE needed to always help the other countries even when its territory is being attacking seemed to have angered him. He calls all COs for a meeting and announce his plan to unify the Allied Nations under the GE flag in order to defeat DA. Some of the COs decide to trust him (Eagle and Conrad), and some aren't fond of the idea...but Peter's...hmm...hypnotic powers made them change their minds
after this point, the outline is fairly unreliable, since I still have to talk to Lego and Xaif
Phase 4: GE turns evil
Mission 20: Unification
Clone Peter decided to start his plan and invade the first country...YC. He leaded the invasion himself and had to face a familar face....
GE: Peter

VS

YC: Sensei

AI: Assault

Defeat Sensei
Sensei will be surprised to see his friend attacking him. Speechless is a better word. Peter will go "it is all for the good of the Allied Nations".
Mission 21: Facing the Emperor
Following Peter orders, Conrad and Javier try to do it wioth the least ammount of casualities. Hoping that YC will forgive them later, they aim at the HQ.
GE Tag: Conrad + Javier

vs

YC Tag: Kanbei + Sonja
Capture the HQ. You can't destroy more than 5 units
After this battle, both YC COs manage to escape and Kanbei declare war at GE. Conrad and Javier's confidence on the ideal proposed by Peter suffer a serious blow.
Mission 22: Love and Hate
While Conrad and Javier were sent to YC, Peter sent Eagle and Drake to deal with OS. Both are intercepted by some rather familar faces...
GE Tag: Eagle + Drake

vs

OS Tag: Sami + Andy
Win by rout or HQ capture
Eagle arrives at OS rather optimistic. He is sure that Sami will join his cause, although the same couldn't be said for Drake. When they met the OS troops, Sami send a message saying that they wouldn't join GE and saying that the situation is rather fishy and they didn't trust Peter. Eagle apologizes to Sami and says he will have to do it by force...and when he says "he" he meant "he and Drake, even though Drake wasn't wanting to do so". After the mission, Drake tries to put some sense on Eagle's thick skull, with no success.
Mission 23: Crystal...Calamity?
JC discovered some plans for the black crystals and, after some persuassion from Peter, they decide to share them with GE. On the middle of the trade, YC and OS step in to avoid it from happening and to destroy everything.
(COs other than Joey and Jess are just placeholders)
GE Tag: Joey + Jess

+

JC Tag: Eniac + Koshi

VS

YC Tag: Grimm + Kiyobi

+

OS Tag: Artemis + Nana
Defeat YC and OS by rout of HQ capture. JC can't be defeated
YC and OS are REALLY mad at GE and ask for explanations. Peter comes with a rather arrogant "Hah. Your countries can't even destroy ants, imagine the Dark Axis. You should thank us" attitude. After a reply like that, there is no space for conversation, so YC and OS start an attack, while the JC and GE troops doing the trade decide to unite and fight the attackers.
Mission 24: Retaliation
The yellow comet and Orange Star troops don't give up and continue the attack, striking now a factory where the crystal were being created. They are welcomed by a VERY angry Smitan...furious for having to clean "Peter's mess". BM comes to lend him a help, even though his pride won't let him accept that fact.
(Once again, placeholder COs <_<)
GE CO: Smitan

+

BM Tag: Edge + Colin

VS

YC Tag: Grimm + Kiyobi

+

OS Tag: Artemis + Nana
Defeat YC and OS. Don't let BM be defeated[/b]




Mission 25: Yellow Sandwich

(yeah right <_<)

Conrad and Javier's invasion go further and further into the YC territory...and the final battle is near, and to make YC's situation worse, the AC mercenaries are also attacking...

(placeholders COs <_<)

GE Tag: Conrad + Javier

vs

YC Tag: Rattigan + Sanjuro (or the other YC that fights off the AC people)

vs

AC Tag: Yukio + Carmen
[i] Defeat AC by rout or HQ capture. YC can't be defeated
Conrad and Javier's mission was to unite YC and GE under the GE flag, which isn't impossible if AC does it first. So the priority here is to defeat AC and then, in theory keep the YC invasion going on. After defeating AC, Conrad and Javier snap out completely of Peter's control and just give up. They surrender to the YC government and accept the punishments.
The Eagle and The Falcon
The mission starts with Drake saying goodbye to Eagle. He says he doesn't believe in Peter anymore and that he will surrender to OS. Eagle can't accept that and also starts to doubt Peter's designs. At this moment, Peter appears from nowhere, have a small conversation with Eagle and slips in a serum given by Levenworth that increases his aggressivity. After that, Eagle attacks OS with all his troops...and a familiar face appears to make thigns worse.
GE CO: Eagle with a couple force ranks

VS

OS Tag: Sami + Sophie

+

AC idealists Tag: Ozzy + Sabaki (if they are still on OS)

VS

BH CO: Falcone + Napoleon
Defeat OS by rout or HQ capture
Secret mission: OS should survive for X days. Defeat BH
I suppose Napoleon is gonna do his sudden strike against OS now, right? Well, that is very interesting.
Anyway, this battle occurs on the beggining of said invasion. Now that all OS's attention were at Eagle, Napoleon seized that opportunity to unleash his attack and take the OS troops by surprise. Sami and Sophie start the battle defending themselves against Eagle's insane strike when the Black Hole Army arrives at the opposite point of the pyramid and start their strike with Falcone and Napoleon. Eagle becomes even more furious when he sees Falcone and Falcone is all "come and get me", only better, while Napoleon is focusing only on OS.
As the battle goes on, the serum starts to lose effect and Eagle becomes conscious of his actions again. But the results of that can be two:
a) If the OS army is still alive by then, there will be a small conversation between Eagle and Sami where he apologizes, blah blah blah, and lends them his help. This means that GE becomes allied to OS on the game and the new mission will be to defeat BH. Once he does so, he tell Sami he is ver ashamed of himself and that he, unfortunately, won't be able to help them face Napoleon anymore...leaving after he says that. Right after that, he receives an annonymous message saying to go somewhere.
b) If the OS army were already destroyed, Eagle will come to his senses right after that happens. He will be so ashamed of himself that he will just apologize to Sami and disappear for a couple missions.
Oh, and the map will be a triangle, like those 3P FFA maps. OS on the top, GE on the left and BH on the right. The way from GE to OS is fairly clear, while he way from BH to GE is more rough. There will be a couple airports, but the battle is mostly land based. Think on a bigger and campaign version of Pyramid Cape.
Mission 26x: Birds of Prey
This mission will only appear if you defeat BH on Mission 26.
The annonymous message leads him to a small island where he meets OMGCRAPPYCLICHE Hawke, who challenges him to a match.
GE CO: Eagle

VS

BH CO: Hawke
Win by rout or HQ capture
OMG OMG OMG, IT'S HAWKE! Hawke will give a bunch of hints about Peter's whereabouts if Eagle wins, including mentions of how he doesn't trust PG, the responsibles for that, etc etc etc.
Mission 27: Malediction
Eagle has disapeared, Drake surrended to OS, Conrad and Javier surrended to YC, Joey is hurt from the last battle...only leaving us with Smitan. This bugs him...of course....like if that was part of some twisted plan. So Smitan goes to Peter's office, explode the door and confront him. Some conversation ensues, Clone Peter admits it was a plan, he says all GE COs were very stupid and that it was a plan to take out all COs from the mainland, making easier for the Dark Matter Army to invade them...and...huh
"The Plan was perfect. All I had to do is make those pathetic COs invade the other countries. That way the land would be defenseless. But you decide to stay didn't you?....very well, let's see how well you fare against the Dark Matter Army! -BANG-"
Clone Peter was shot by Smitan.
"Shut the hell up, Bitch. You talk too much".
After that, all kinds of alarm systems go crazy, saying that there is a huge hostile army arriving really quickly...
GE CO: Smitan

VS

DM CO: LevenworthX (hidden)

Mission: Survive X days
Oh so it begins the last phase. And the first event is Levenworth's insane attack at GE Territory, when he manages to destroy/conquer it in a week or so.
After the battle, Smitan takes a weak Joey to a T-copter and escapes from the HQ, being hit a bullet on the proccess, while the HQ is taken by Levenworth. The T-copter goes Yellow Comet, where Joey believes he may get some help with his former instructor.
Phase 5: The Grand Finale
To be done.
BWAHAHAHAHAHAHA.