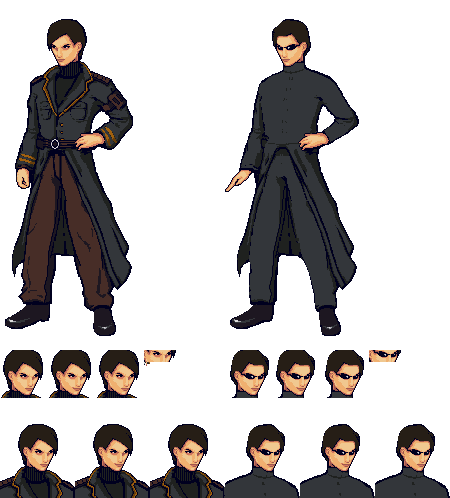 First and foremost for the new concept- Crippled is defined as "paralyzed" (like Von Bolt's Ex Machina) , which lasts only one turn.
CO James Graves
Affiliation
- Dark Matter, but no true devotion.
Backstory
For the many years of Graves's existence (he is thought to be at least forty despite his appearance), he has moved through the history of Wars World much like he has on his many missions, appearing suddenly, accomplishing what he needs, and disappearing quickly back into the shadows, unseen until his next move.
Part One: Military Intelligence
~
From the compiled archives of the Allied Nations
...While not much is known about his early life, the various known assassinations performed by Graves are well documented. Through the early stages of his career, he performed as a freelance, selling his skills to whomever needed them, but after solidifying his name in the underground, found himself working for the forces of Blue Moon when war broke out between them and their neighboring nation of Orange Star due to a simple land dispute. During this time, there were three confirmed assassinations of Orange Star CO's during this time attributed to Graves, as well as countless other nameless officers. The "dispute" eventually ended, the soldiers composing the armies began to dissolve into civilian life, and Olaf became leader of Blue Moon, while Hachi stepped down as the Commander-in-Chief to retire and live a quiet life as a shopkeeper. No mention of him exists until after the war instigated by the actions of Sturm ended and the second war began...
~
From a memo found in the ruined Black Hole factory in Green Earth
I have finished the assignment...[unreadable due too burning]...appears that the assassin disappeared during the final week of the [unreadable] War. A classified document in the [unreadable] archives states that he failed to assassinate a [unreadable] officer by the name of Nell[...] Exact motives unknown, although had the attempt been successful, it is possible that Orange Star would have fallen under the might of Blue Moon [...]
~
A transmission to Black Hole forces (decoded) intercepted by Yellow Comet CO Sonja
~Dated a few days before the Allied retaliation against Black Hole
Found the target.
Working literature teacher at a public high school.
Will make proposition to him at 1800.
Response
: Eliminate target if he does not accept the offer.
~
An excerpt from a local newspaper
... the unidentified corpses of two men have been found...
~
From a local paper a few days later
...identified as Black Hole operatives... suffer multiple gunshot wounds to the head and chest... authorities say the killer was quote "a professional."
~
Computerized transcript of access of intercepted transmission to Hawke, dated a week after Sturm's Death
THIS DOCUMENT HAS BEEN MARKED "HIGHLY CLASSIFIED' BY USER 'NELL'
ENTER PASSWORD.
********
VERIFYING...
PASSWORD ACCEPTED.
Your actions have made me consider.
Tell me, do you have a purpose?
-JG
END
SHORT Description
Graves is a former professional assassin with a remarkable record of one failure in in his line of work. He retired shortly after, but now commands troops with that same deadly efficiency. He seems to willingly work as Hawke's pawn in the Dark Matter army, but even Hawke is not sure of Graves's motives.
Appearance
- Concept image:
Mystery Novels
Romance Novels
Personality
A remarkably intelligent individual, Grave is quite skilled concealing his emotions and motives. He treats most individuals in a remote and controlled business-like manner. Even during a rare defeat, he does not lose his temper, viewing every loss to the enemy and every stratagem he develops a personal victory. He has a strong disliking for those who blame their failings on others (Example: Adder) and those who simply use their resources with waste or without any regard to the impact.
Any unit enemy reduced 2 or less hit points becomes crippled.
CO Meter
Plague - All enemy units take 1 points of damage. All enemy units at 3 or less hit points become crippled. Any unit reduced to 3 or less hit points this turn becomes crippled.
Perdition - All enemy units take 2 points of damage. All enemy units at 4 or less hit points become crippled. Any unit reduced to 4 or less hit points this turn becomes crippled.
Tags
Ain
:smallstar:
Beyond Good and Evil
120%
Hawke
:smallstar:
Antagonistic Desire
- 115%
Falcone
Debilitate
110%
Thanatos
Memento Mori
105%
Napoleon
105%
Adder
85%
Ember
85%
Rachel
85%
Nell
80%
Xavier
75%
Theme
Go here
.
Quotes
Battle
Good: "..." or "Excellent."
Neutral: "..."
Negative: "...hmm." or "A pity."
Tag
"Fear the shadow that rises to meet you."*
"I will show you fear in a handful of dust."*
CO Power
"Fear is a valuable tool. I suggest you learn how to use it."
"Do you desire death that greatly?"
"You must give everything if you want to win."
"You are ill prepared to face me."
"A valiant effort. But futile, nonetheless."
"Prepare yourself."
Victory
"That was it? ...I overestimated you."
"Such a victory was... so rudely forced"*
"Lives could have been spared had you just accepted your fate."
________________________________________
Ain: "Ironic how one must fight if he desires peace."
Graves: "But that is the way. One must intend to die if he wishes to live."
Ain: "We were plucked from the fires of war and escaped the maelstrom of death."
Graves: "I see I'm dealing with a quasi-literate."
Graves: "Man will never learn from the mistakes that lead him to war."
Ain: "To me, that's not as important as that man can."
Graves: "Man is merely a blade of grass. The grass withers and its flowers die."
Ain: "And yet their words endure forever in our memories."
________________________________________
Graves: "The target has been silenced."
Hawke: "And another deed is done."
Graves: "Once again, they wasted their men's lives."
Hawke: "The unavoidable fate of those who believe they are strong."
Hawke: "Pathetic."
Graves: "They stood no chance."
Hawke: "We have left this place a rats' alley..."*
Graves: "Where the dead have lost their bones..."*
_________________________________________
Graves: "Mission accomplished."
Falcone: "Effortlessly."
Graves: "The victory was flawless."
Falcone: "Hawke will be most pleased."
Falcone: "Those with no purpose cannot stand against us."
Graves: "Hanged men need something to fight for."*
Falcone: "The fools thought they stood a chance."
Graves: "They lacked a vision and had no will to fight."
________________________________________
Graves: "To think that they tried to resist."
Thanatos: "I enjoyed crushing their pathetic dreams."
Graves: "To stand against Dark Matter is to stand against death itself."
Thanatos: "Then we have delivered their deaths, fulfilling our obligation."
Thanatos: "We are a rare breed, Graves. We both appreciate the full value of information."
Graves: "And the enemy's lack thereof."
Thanatos: "Know your enemy as well as your friend, and no one shall surprise you."
Graves:"Keep a dagger at both their backs, and no one ever will."
Defeat
"A nugatory setback. Beware our next meeting."
"Interesting. I did not expect this. "
*See T.S. Eliot's
The Waste Land